Styro Products Lidded Boxes
BENNIFTS OF EXPANDED POLYSTYRENE CONTAINERS
The benefits of Expanded Polystyrene containers are numerous.
Lidded expanded polystyrene containers have an outstanding ability to dampen vibration and absorb impact shock.
Lidded expanded polystyrene containers offer the best protection from environmental and handling hazards and are typically more cost effective than other packaging methods.
Expanded Polystyrene containers enhance product presentation.
Most lidded boxes comply with Australian Seafood Air Transport Regulations. Moreover, cardboard leak proof outers are available to meet the standards for overseas air transport when requested - US internal air transport.
The range of Lidded expanded polystyrene containers are the ideal choice for your valuable commodities when they must arrive to market, FRESH.
STORAGE CONTAINERS
| Code | Weight Capacity | Dimensions | Capacity | Per Pallet |
| --- | --- | --- | --- | --- |
| | All boxes are suitable for storage | | | |
SMALL ITEMS CONTAINERS
| Code | Weight Capacity | Dimensions | Capacity | Per Pallet |
| --- | --- | --- | --- | --- |
| P50 | - | 190x120x80 | 1.8 Litre | 720 bundled in 30x |
PATHOLOGY/WATER SAMPLES CONTAINERS
| Code | Weight Capacity | Dimensions | Capacity | Per Pallet |
| --- | --- | --- | --- | --- |
| P15 | - | 215x195x130 | 5 Litre | 224 |
COURIER BAG CONTAINERS
| Code | Weight Capacity | Dimensions | Capacity | Per Pallet |
| --- | --- | --- | --- | --- |
| P51 | - | 300x195x89 | 6 Litre | 360 bundled in 30s |
LIVE FISH CONTAINERS
| Code | Weight Capacity | Dimensions | Capacity | Per Pallet |
| --- | --- | --- | --- | --- |
| P15 | - | 215x195x130 | 5 Litre | 224 |
| P105 | - | 350x255x110 | 10 Litre | 224 bundled in 16s |
| PMB7 | - | 247x250x205 | 18 Litre | 120 bundled in 10s |
| P46 | - | 450x295x120 | 15.4 Litre | 128 bundled in 8s |
| P21 | - | 445x290x160 | 20.6 Litre | 96 bundled in 6s |
| P22 | - | 530x335x155 | 28 Litre | 72 bundled in 6s |
| P23 | - | 530x335x207 | 36 Litre | 60 bundled in 5s |
| PMB48 | - | 520x330x278 | 48 Litre | 48 bundled in 4s |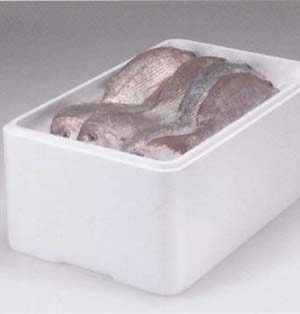 LIVE REDCLAW CONTAINERS
| Code | Weight Capacity | Dimensions | Capacity | Per Pallet |
| --- | --- | --- | --- | --- |
| P46 | - | 450x295x120 | 15.4 Litre | 128 bundled in 8s |
| P21 | - | 445x290x160 | 20.6 Litre | 96 bundled in 6s |
| P22 | - | 530x335x155 | 28 Litre | 72 bundled in 6s |
| P23 | - | 530x335x207 | 36 Litre | 60 bundled in 5s |
| PMB48 | - | 520x330x278 | 48 Litre | 48 bundled in 4s |
FRESH AND FROZEN FOOD CONTAINERS
| Code | Weight Capacity | Dimensions | Capacity | Per Pallet |
| --- | --- | --- | --- | --- |
| P105 | - | 250x255x110 | 10 Litre | 224 bundled in 16s |
| PMB5 | - | 347x250x160 | 14 Litre | 144 bundled in 12s |
| PMB7 | - | 347x250x205 | 18 Litre | 120 bundled in 8s |
| PMB46 | - | 450x295x120 | 15.4 Litre | 128 bundled in 8s |
| P21 | - | 445x290x160 | 20.6 Litre | 96 bundled in 6s |
| P22 | - | 530x335x155 | 28 Litre | 72 bundled in 6s |
LIVE CRAB CONTAINERS
| Code | Weight Capacity | Dimensions | Capacity | Per Pallet |
| --- | --- | --- | --- | --- |
| P23 | - | 530x335x207 | 36 Litre | 60 bundled in 5s |
| PMB48 | - | 520x330x278 | 48 Litre | 48 bundled in 4s |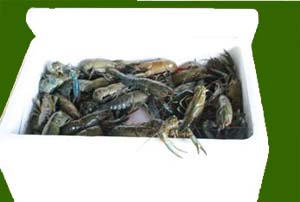 PLANTS CONTAINERS
| Code | Weight Capacity | Dimensions | Capacity | Per Pallet |
| --- | --- | --- | --- | --- |
| P23 | - | 530x335x207 | 36 Litre | 60 bundled in 5s |
| PMB48 | - | 520x330x278 | 48 Litre | 48 bundled in 4s |
PRODUCE CONTAINERS
| Code | Weight Capacity | Dimensions | Capacity | Per Pallet |
| --- | --- | --- | --- | --- |
| P33 | - | 539x247x264 | 37.3 Litre | 72 bundled in 4s |
| P46 | - | 450x295x120 | 15.4 Litre | 128 bundled in 8s |
BAMBOO SHOOTS CONTAINERS
| Code | Weight Capacity | Dimensions | Capacity | Per Pallet |
| --- | --- | --- | --- | --- |
| P23 | - | 530x335x207 | 36 Litre | 60 bundled in 5s |
MACKERAL AND SHARK CONTAINERS
| Code | Weight Capacity | Dimensions | Capacity | Per Pallet |
| --- | --- | --- | --- | --- |
| PMB40 | - | 960x280x250 | 68 Litre | 24 bundled in 2s |