Styro Products Associated Items include cardboard boxes, specialist cardboard boxes, gelpacks, moisture absorbent pads, ice replacement cells or chill wraps, clear top catering trays, packing tap, crab pot floats, inks, customer labels and liquid retention pads. These associated items are further explained below for you convenience.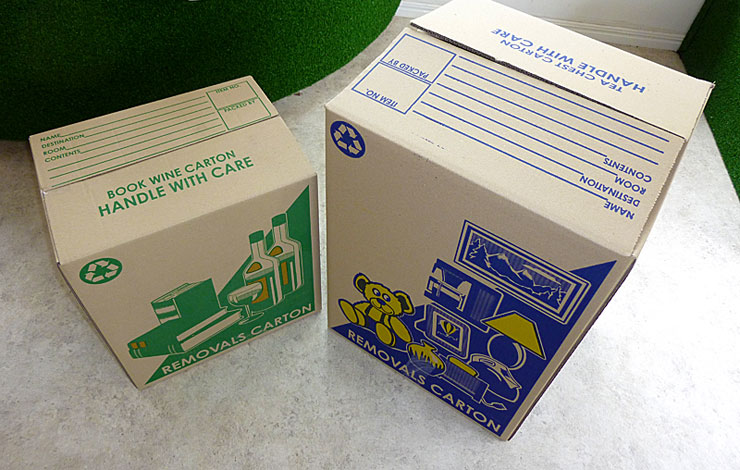 CARDBOARD BOXES
We now have available brand new Tea Chest boxes made from the strongest recycled cardboard. A box for bulkier and lighter items – linen, clothes, cushions, toys, pots, pans, etc.
We also now have available brand new boxes for wine and books and other heavy items made from the strongest recycled cardboard.
These removal boxes will make your next shift much easier.
SPECIALIST CARDBOARD BOXES
Specialist boxes which are cardboard leak proof outers are available to meet the standards for overseas air transport when requested, that is, United States internal air transport.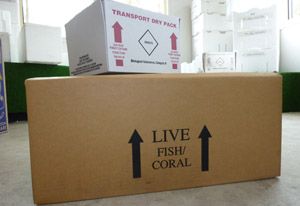 These are for salt and fresh water specimens. These boxes fit our Code 23 38lt lidded boxes mainly used for seafood, live fish and live coral.
Specialist boxes which are cardboard leak proof outers are available to meet the standards for transporting biological samples, pathology samples etc.
These cartons fit our code 15, 5lt medical box, and are sought after by Vets and Laboratories for freight or post of samples and product.
GELPACKS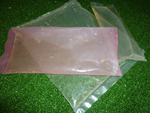 Gelpacks come in 1kg flat pak, 400gm sausage and 500gm flat pack.
400gm sausage 260mm x 90mm
500gm flat pack 320mm x 140mm
1kg flat pak 320mm x 260mm
Getting the most from your Gelpacks!
There are many things which can affect the length of time that things will stay cold, including the ambient air temperature, the temperature of the contents at the time of packing, the volume of contents packed and the amount of freezer packs used.
Gelpacks will extend the amount of time that contents stay cold or frozen.
Gelpacks have a lower freezing point that loose ice and also less condensation will occur at the bottom of the container.
The fuller your container ()cooler is with cold product) the longer the contents will stay cold. Testing has shown that container (coolers that were fully packed) produced optimal results. A small container (cooler that is fully packed) will stay cooler longer than a larger, partially loaded cooler.
Warm air rises and cool air falls, it is therefore recommended to place the Icepack on top of contents for best cooling results.
MOISTURE ABSORBENT PADS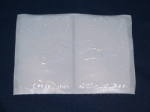 Moisture absorbent pads are used to remove and lock away unwanted liquids from most forms of packaging.
These packages can be small over-wrapped trays in supermarkets or large containers.
These absorbent pads rapidly aborb unwanted water-based liguids in order to take the moisture away from sensitive products during shipping or storage.
All these pads have the ability to retain fluids within the pad itself so that no fluid is released even if it is under pressure.
ICE REPLACEMENT CELLS or CHILL WRAPS
The key ingredient in Chill Wraps is sodium polyacrylate, an amazing water absorber. It can absorb 200 to 300 times its weight in tap water and hold it in a gel.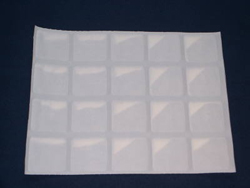 The benefite is that the gel does not release water so you can create an ice replacement which does not leak the way normal wet ice leaks.
The gel also absorbs more heat than normal ice. Chill wraps are a combination of plastic and fabric. When it is soaked in water, it absorbs measured qualities of water which can be frozen and used to replace ice.
Who uses Chill Wraps? Anyone who needs to maintain a product at a temperature between 0°C and 9&#176C for periods up to 48 hours.
The beauty about Chill Wraps is that you can reused them many times if you kept them clean and undamaged.
CLEAR TOP CATERING TRAYS

These inexpensive popular Australian made trays are used widely in the catering industry and also for clubs and fundraising committees.
Dimensions 360mm x 330mm
They feature a hygienic clear lid which enhances presentation whilst retaining a hygienic cover.
They will hold sandwiches made from 1 loaf of café bread quartered.
They are also popular for slices, salads, savouries, fruit platters etc.
PACKING TAPE
Packing tape in 24mm and 36mm can be supplied for attaching our Clear PVC lids.
Polypropylene tape meets the mark for general packaging and carton sealing applications.
Will perform in temperatures typically encountered during shipping and storage.
STRAPPING TAPE
19mm Strapping (towing) tape is…
Suitable for palletising and bundling
High impact strength – won't split or break during transit and movement around the warehouse
Ideal if your pallets are lightweight and fairly stable – no pallet wrapping required
Premium grade polypropylene tape is even easier to apply with purpose built dispenser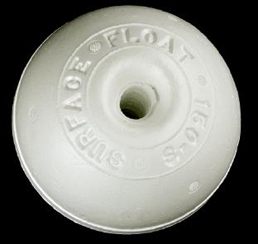 CRAB POT FLOATS
150 mm crab pot floats are available.
INKS
Economy stamp pad ink is available in 250ml bottles suitable for workshop and warehouse use.
DS Stencil Ink is available in 1lt bottles.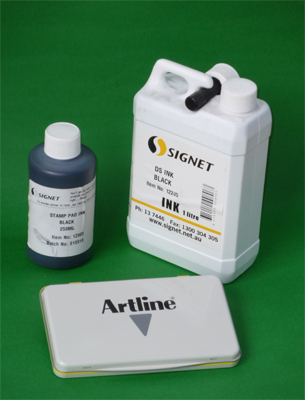 Pigmented, opaque ink for use with rollers on porous or nonporous surfaces
Suitable for outdoor stencilling or when a permanent mark is required
Use DS Solvent when your roller, ink pad or stencil becomes tacky
Frequent wetting with DS Solvent gives trouble free marking and prolongs roller and pad life
Handy 1 litre bottle with pourer spout to control flow and reduce mess when wetting rollers and ink pads
No2 Artline stamp pads can also be supplied.
CUSTOMER LABELS

We can arrange to have your customized labels printed and attached to boxes for your convenience. Many of our discerning customers who want their product to stand out at the markets use this facility.
Labels are produced in quantities of 10,000, 20,000, 50,000 and 100,000 and are at the customers cost. We generally give the customer one roll (2,000) of labels and retain the balance at the factory for attachment to your boxes.
LIQUID RETENTION PADS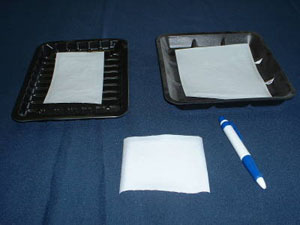 These soaker pads are usually found in the meat or fish cabinet at your local supermarket, absorbing unwanted liquids from your beef, pork, chicken, lamb or fish in wrapped trays.
They keep the meat in better condition than when it soaks in its own juices, maintain great presentation and reduce mess in the kitchen. They can also be placed in bags with whole chickens, preventing chicken wash leakage during storage, transport and opening.
COLOURS: Retail tray pads can be made in different colours (standard colours are White and Black). Some people prefer a black pad in a black tray or other combinations.
SIZES: Our stock sizes are two cell pads, 141mm x 64mm and 75mm x 150mm. We can make meat soaker pads in two cell sizes, 70.5mm x 64mm and 75mm x 75mm. The pads can then be cut to in multiples of cells, for example 2 x 2 cells, 3 x 2 cells. This provides a lot of flexibility in terms of absorbency.
LIQUID RETENTION: The key benefit of any gel-based absorbent is its ability to keep the liquid within the confines of the pad. Many small absorbent pads which do not use a Super Absorbent Powder will release liquid under pressure from the product or its wrapping. Our tray pads are designed to absorb and retain the fluid inside the pad, even under pressure.